Description
Wide Compatibility

Compatible easily with PC/laptop/tablets/phones and other Bluetooth devices (Non-Bluetooth devices connect with usb-a Dongle).It's ideal for your daily Work/Study/Skype Zoom Meetings/Home/Office/Call Center.
ENC Noise Canceling
Advanced Environmental AI Noise Canceling: With dual microphone filters out 99.6% background noise.
Working Time Up to 70 hours
The Bluetooth headset can provide 70 hours of working time after 1.5 hours fully charged. When the Bluetooth headset is at a low battery, support charging for 5 minutes can provide 2 hours of power. 
 Ideal for your daily Work/Study/Skype Zoom Meetings/Home/Office/Call Center etc.
Mute Your Voice
Mute Button: Can mute your voice freely on call, protecting your privacy, but only works during a phone call not including pc laptop.
Multipoint Connect - Swith Phone to PC
Bluetooth V5.0 & Dual Connectivity: Paired with 2 devices at the same time via BT 5.0, swith phone to PC without delay. Connection range up to 49 feet/15 meters in open unobstructed area.
All Day Comfort
Trucker bluetooth headset with adjustable headband to reduce the pressure on your head, no matter worry the head size; Over-ear noise canceling bluetooth headphones with 270° rotatable mic, is reversible to use this trucker bluetooth headset on your left or right ear.
NOTE: Some computer need to download the bluetooth driver.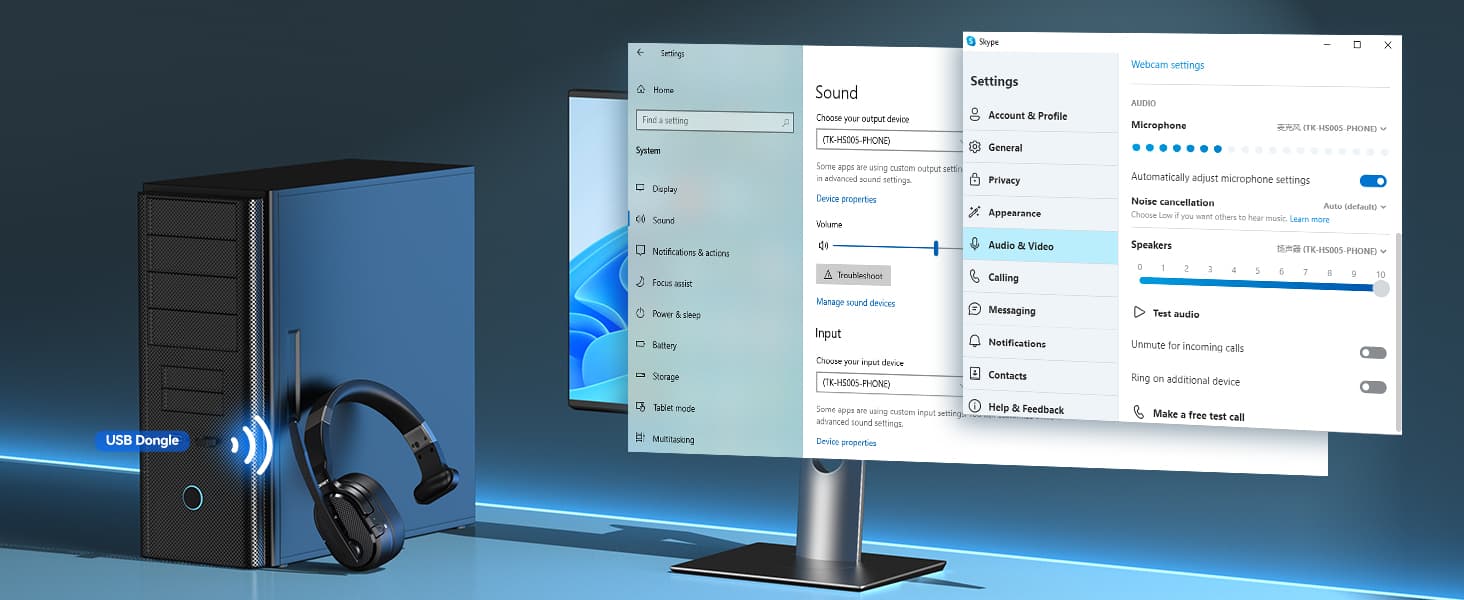 Over-ear Bluetooth Headphones
Over-ear Earmuffs: Better physical noise reduction and all-day comfort than on-ear size.. Wireless headset with microphone combines usb wireless tech, compatible with PC/laptop/tablet/phone.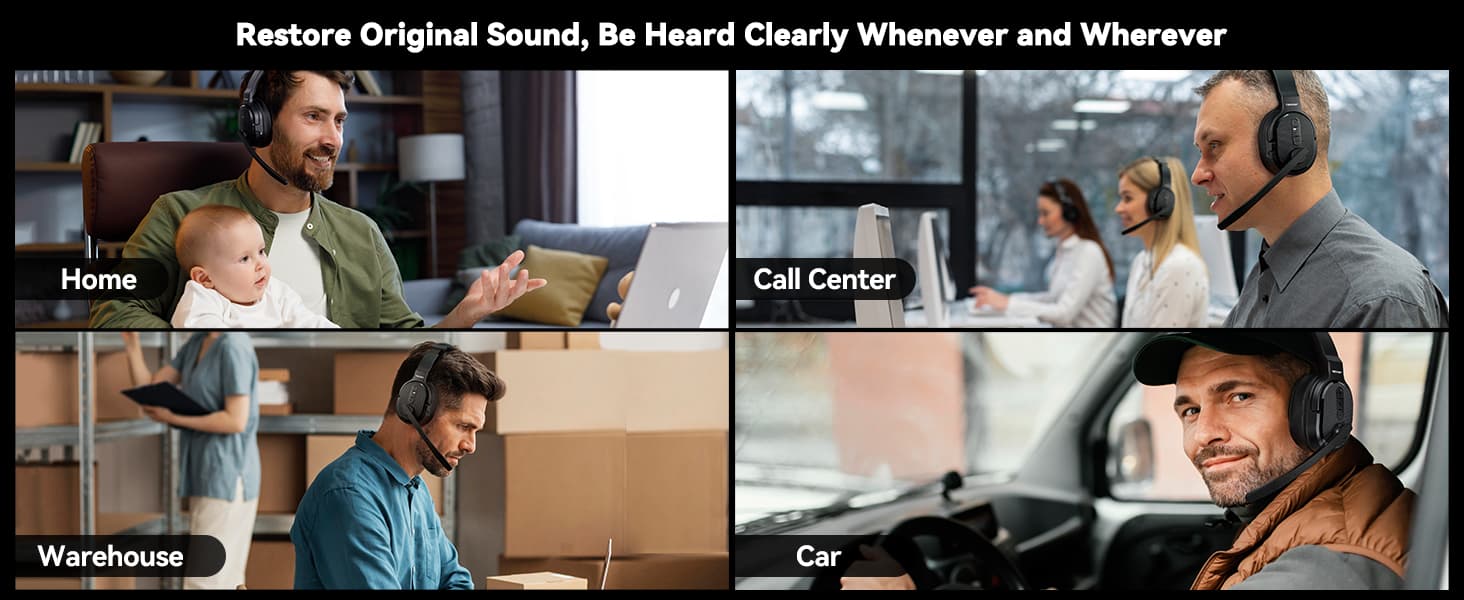 Question & Answer
1. How to pair TK-HS005 PHONE bluetooth headset to phone/computer via blueooth?
1: Long press MFB 2s to turn on the headset and enter pairing mode. 2: PHONE: search and click to connect [TK-HS005-PHONE] in the Bluetooth list of the phone; COMPUTER: select Start > Settings > Bluetooth & other devices > Add Bluetooth or other device > Bluetooth > Click on the model number [TK-HS005-PHONE] of your device > Connect Success
2. Is the bluetooth headset able to connect to PC without Bluetooth function?
Sure, use included USB dongle; When the Bluetooth connection is unstable, it is recommended to connect the device with a USB adapter.Method: First, plug the dongle into the USB-A port and wait to recognize it; then, power on your headset and wait connect automatically ; Finally, you will hear "Your headset is connected"
3. What is the meaning of ENC(environmental noise canceling) adopted by over-ear bluetooth headphones?
The bluetooth headset can effectively eliminate unwanted background noise (keyboard tapping, children crying, tv background sound...) however, the voice of people around you speaking at a normal volume is not environmental noise and cannot be filtered out.
4.  What should I do if there is no sound from the microphone when I am connected to pc?
When making a call with conference software, please check the sound settings of both the pc and the software to make sure [TK-HS005-PHONE] is selected as the default output and input device (speaker/microphone)
5. Can I use the headset to answer or hang up the call?
When connected to a mobile phone, you can click the MFB to answer/hang up calls on the headset; connected to a laptop, you need to answer calls on the laptop. Reminder: wireless headset with microphone for pc does not work with desk phones/landlines/Cisco IP Phone/Voip Telephone.
6. How to troubleshoot the headset can not be turned on?
Please try charge reset to confirm whether the battery is exhausted; The steady red light means it is charging, and the indicator light turns green to prove that it is fully charged
7.  How to deal with the sudden failure of the Bluetooth headset to connect to the phone/computer? 
In power-on status, long press Volume"-" and MFB for 5 seconds to clear the pair record. Press and hold the multi-function button for 2s to reconnect.
8. Why can't the other party hear me or hear me clearly?
The other party can't hear you: mute button is turned on during the call; can't hear you clearly: microphone is far away from your mouth, the reception effect is poor or the other party's environment is noisy. Reminder: wireless distance is 49ft in an open environment, and it will be shortened to 33ft if there are obstacles.
Payment & Security
Your payment information is processed securely. We do not store credit card details nor have access to your credit card information.
Transport information
No,We only ship to the US.
• Processing time: 1-2 business days
• Shipping time: US: 3-5 Business days  Expedited Processing: (1-3Business days )
Product
We always aim for make sure our customers love our products, but if you do need to return an order, we're happy to help. Just email us directly and we'll take you through the process.Check it out Warranty & Return
It depends on the creator and the product. All options are outlined on the product page, so look out for customization options there.